NAA Inflation Tracker: January 2023
Date posted
January 16, 2023
CPI, Latest Release, December 2022
There were no surprises in this month's CPI report, with most measures matching analysts' expectations. Headline CPI increased 6.4% year-over-year (seasonally adjusted) while price increases excluding food and energy decelerated to 5.7%. Both measures came in at their lowest levels since Q4 2021. On a monthly basis, prices for all items declined -0.1%, which has not occurred since May 2020 in the aftermath of economic shutdowns. Energy prices were largely responsible for the decline, down 4.5%. Food prices continued to rise, but have moderated at 0.3%, the fifth consecutive month of slower increases.
Image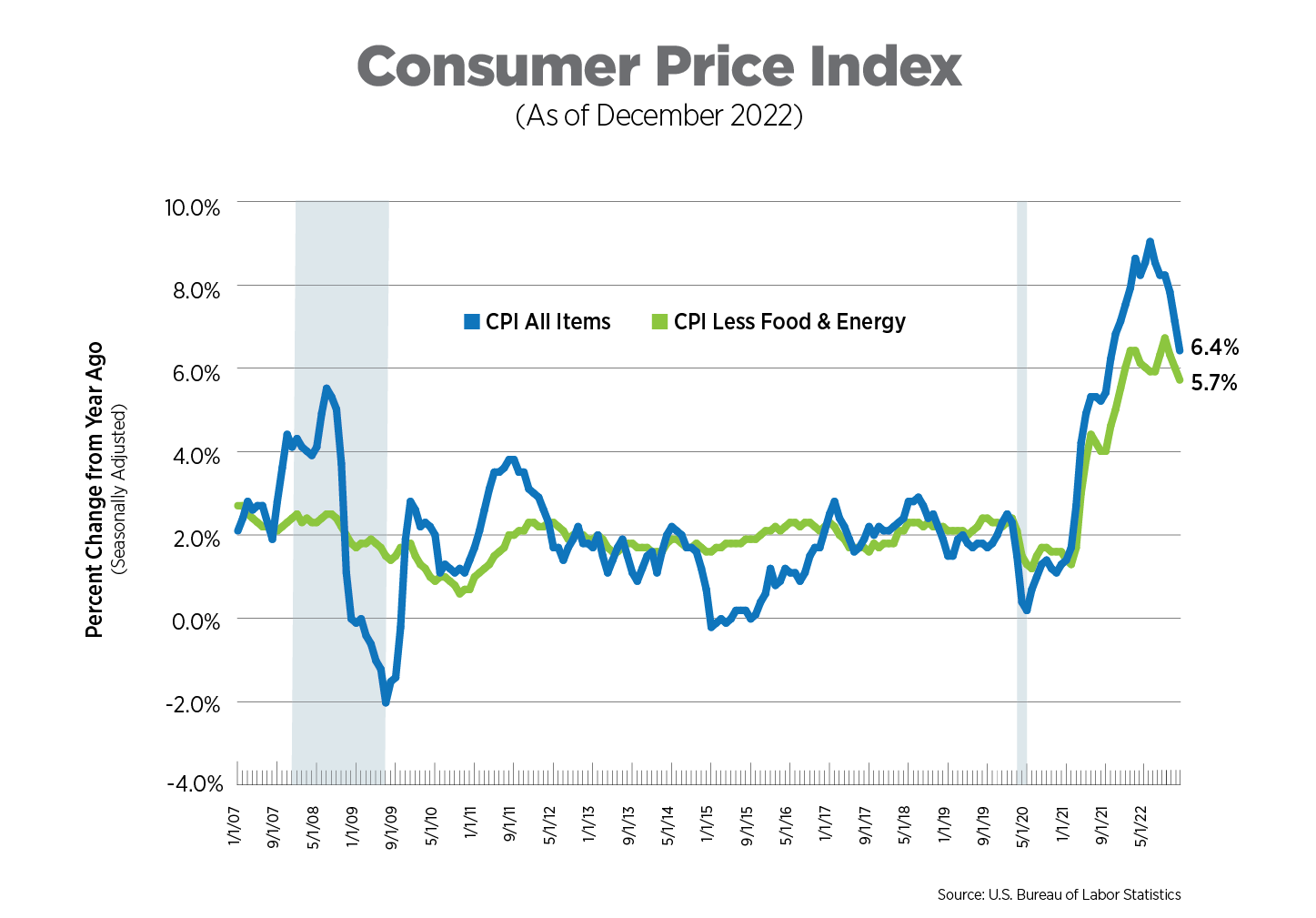 CPI for Housing, December 2022
The CPI includes two measures for shelter costs: owners' equivalent rent and rent of primary residence, both of which are self-reported. Together, they comprise about one-third of CPI. As expected due to data collection lags at the BLS, both rents and owners' equivalent rent continued to surge, up 8.3% and 7.5% year-over-year, respectively, remaining at 40-year highs. On a monthly basis, shelter costs increased 0.8%. Most private sector data providers have been recording monthly rent declines since the third quarter. The CPI rent measures appear to lag by 8 to 12 months, meaning rents will remain the driving force of core CPI at least until Q2 2023.
Image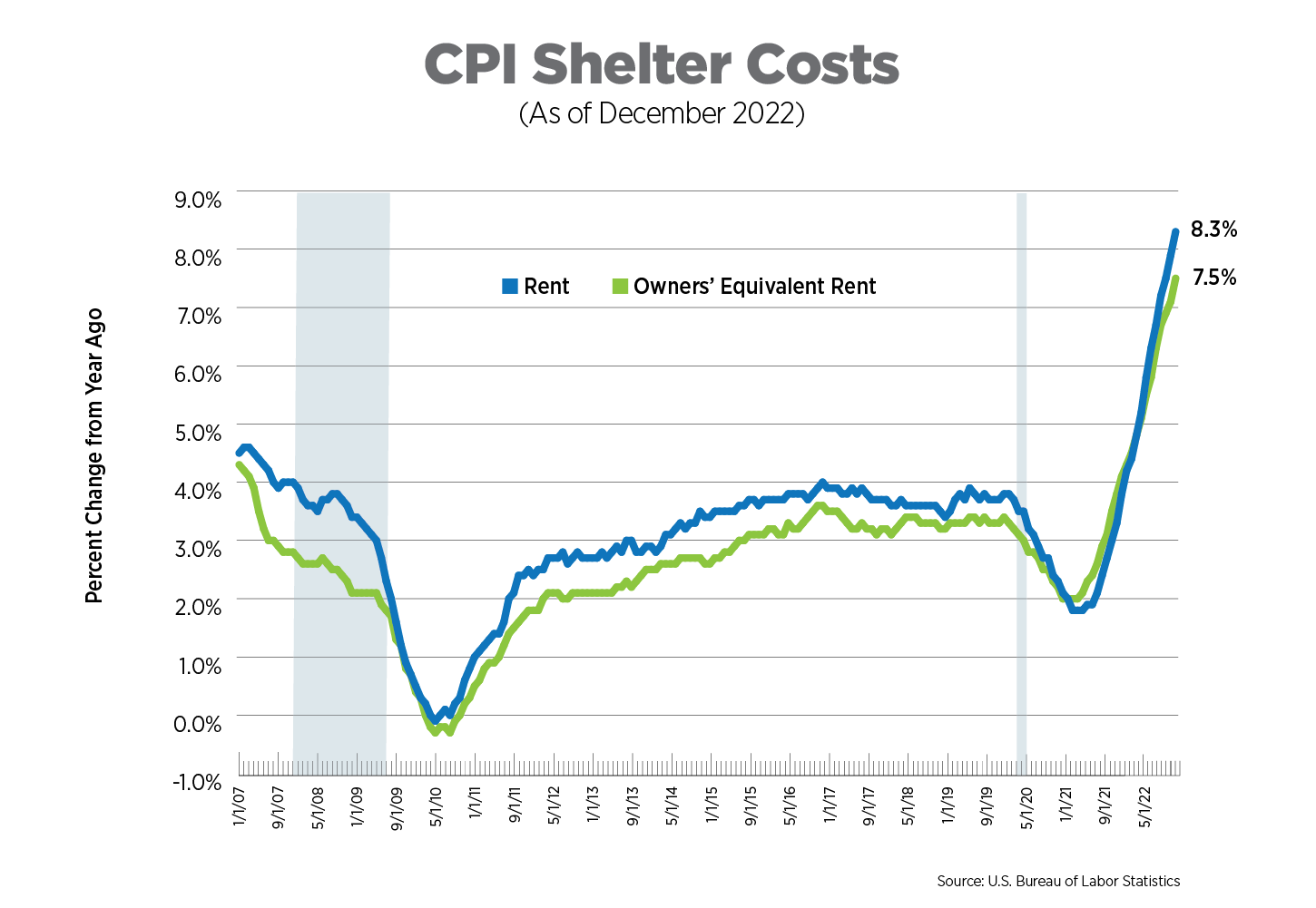 Goods vs. Services CPI, November 2022
Prices for durable goods, such as cars, furniture, appliances and machinery, slowed to their lowest rate of increase (2.4%) since August 2020 when pent-up demand in the aftermath of pandemic lockdowns and restrictions kicked off the high inflationary cycle we remain in today. Services inflation, however, which tends to be stickier, remained at 40-year highs at 7.2%, although it is showing signs of a possible peak. Price increases were fairly broad-based with monthly increases in November exceeding 1.0% for motor vehicle repair, dental services, pet services, and education and communication services, among others. Now that goods inflation has declined precipitously, the Fed will be keeping a more watchful eye on services, which include shelter costs.
Image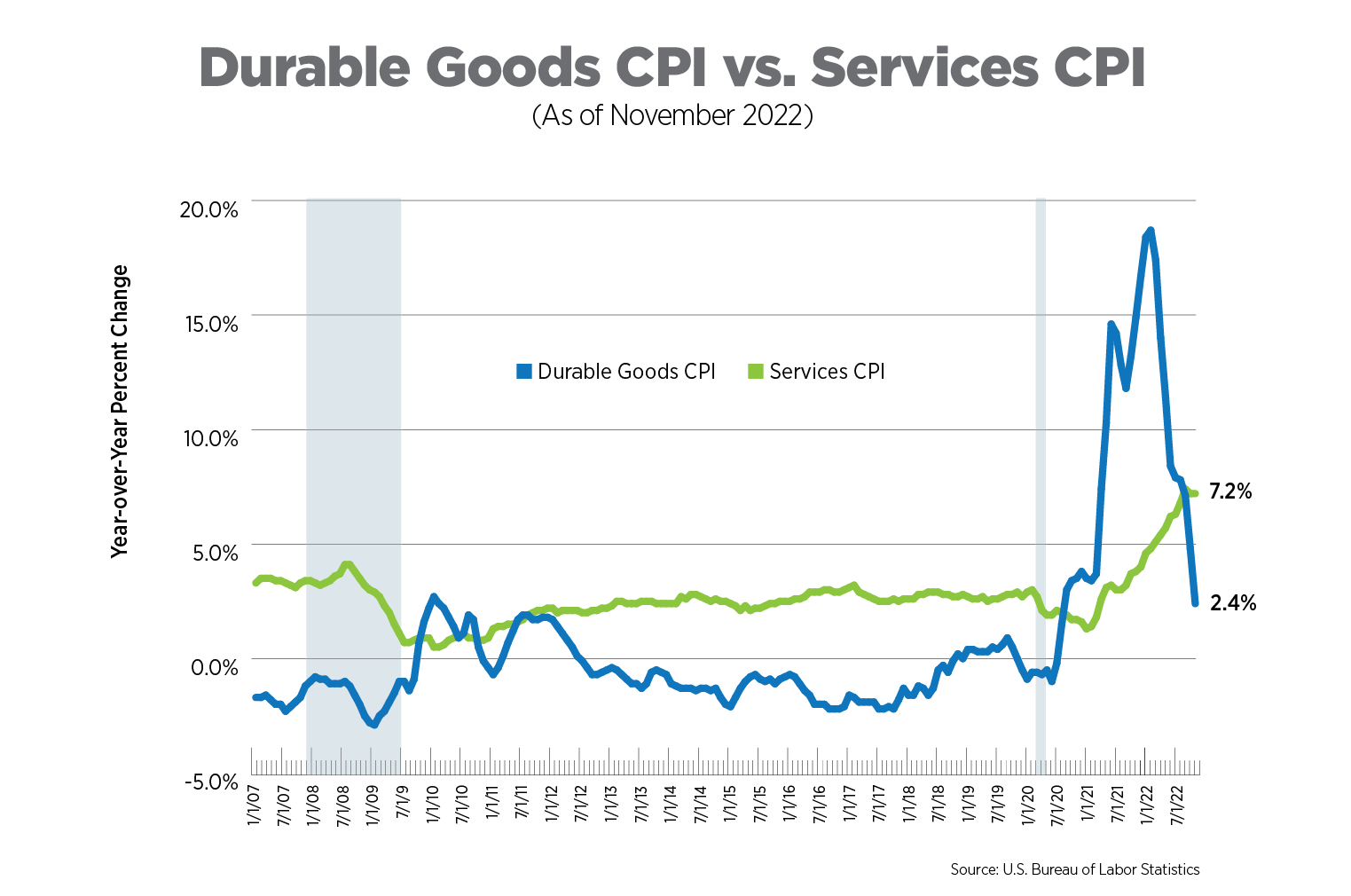 Inflation Expectations, November 2022
The Fed tracks 21 different measures of inflation expectations. The data presented in the chart below are from the Federal Reserve Bank of New York's Survey of Consumer Expectations, specifically the median expectations for inflation one and three years from now.
Consumers are finally seeing an easing of price pressures, expecting inflation one year from now to be at 5.0%, down from a peak of 6.8% in June of last year. Inflation expectations three years out have moderated in the 3% range, after being over 4% in Q4 2021. Expectations are key in predicting both consumer and business behavior, so the fact that they are steadily improving is a good indication that the worst of inflation is behind us.
Image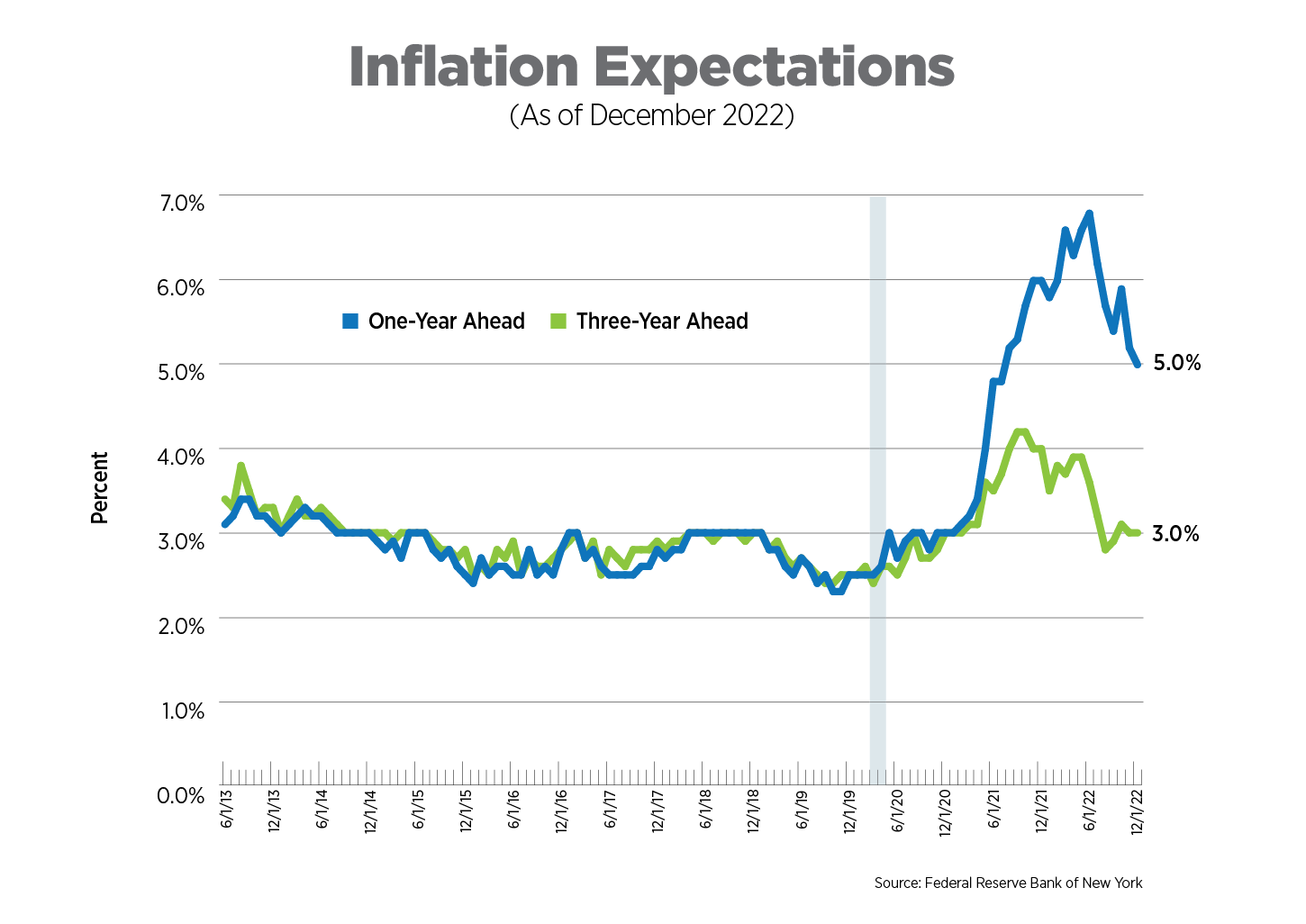 Wage Growth, December 2022
Wage growth has either stagnated or dropped for nine consecutive months. The 4.6% growth in December was the lowest rate of increase since August 2021, potentially signaling that it has peaked. Although wage growth is heading in the right direction, the Fed needs to see it drop even further to gain confidence that the economy may be able to avoid a wage-price spiral.
Image
What to Watch in the Next Month
The next meeting of the Federal Open Market Committee occurs in early February. Market analysts are expecting a rate increase between 25 and 50 basis points, as well as continued increases in the coming months which would bring the Federal Funds rate to a peak of 5.0-5.25%.
The Employment Cost Index, the Fed's preferred quarterly measure of wage growth, will be released at the end of January and will be an important measure used by the Fed for its next policy decision.
Next Tracker: February 14, 2023