CAMT- Certified Apartment Maintenance Tech
---
Monday, October 4, 2021
at
8:00 AM (CDT)
to Friday, October 8, 2021 at 5:00 PM (CDT)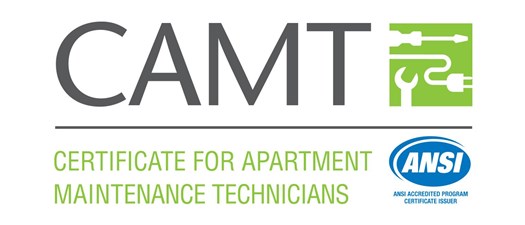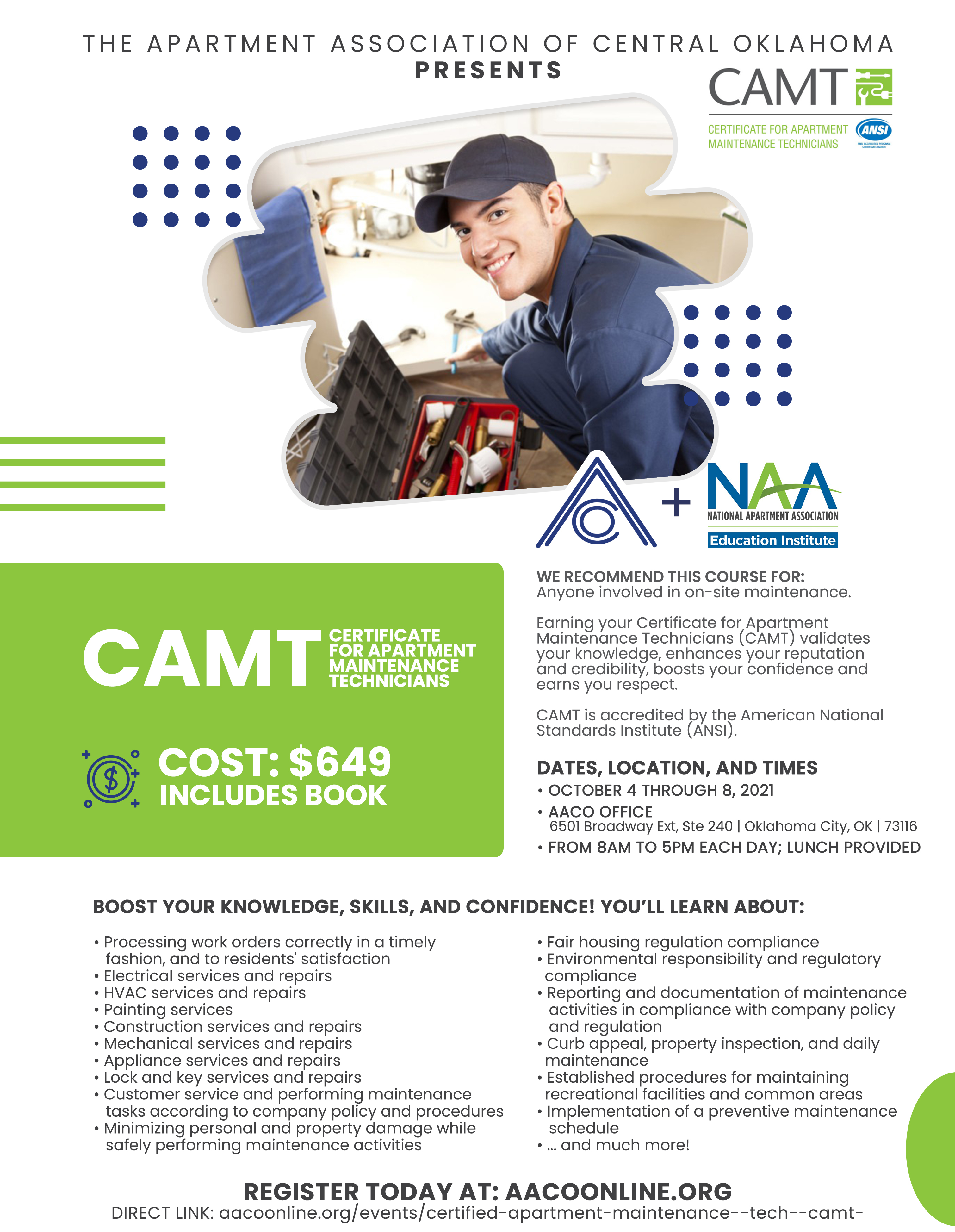 CAMT certification demonstrates to employers that you possess the technical skills to successfully and accurately solve the maintenance issues that come up in apartment communities.
CAMT covers:
Processing work orders correctly in a timely fashion, and to residents' satisfaction
Electrical services and repairs
HVAC services and repairs
Painting services
Construction services and repairs
Mechanical services and repairs
Appliance services and repairs
Lock and key services and repairs
Customer service and performing maintenance tasks according to company policy and procedures
Minimizing personal and property damage while safely performing maintenance activities
Fair housing regulation compliance
Environmental responsibility and regulatory compliance
Reporting and documentation of maintenance activities in compliance with company policy and regulation
AND MORE!
To obtain the CAMT credential, candidates must complete the following:
Minimum of 12 months of apartment or rental housing maintenance experience. (This can be obtained while taking the course, you will receive a provisional certificate until this requirement is met.)
Successful completion of all CAMT coursework (totaling 80 hours)
Meet all examination standards within six (6) months of declaring candidacy
Earning your CAMT credential gives you special membership in the Apartment Institute for Maintenance Excellence (AIME)
As a member of AIME, you will be acknowledged as a leader in the field of Apartment Maintenance and can prove that you are tuned into the most up to date information on industry regulations and other changing standards. You will also have the opportunity to take advantage of maintenance training designed specifically for CAMT credential holders.
Sponsor CAM-T
Would you like to meet with and talk to the attendee's of CAM-T? Sign up to be a Lunch Sponsor.https://www.aacoonline.org/events/2021-sponsorships
For More Information:

6501 Broadway Extension Highway Suite 240
Oklahoma City, Oklahoma 73116
United States
405.606.2226