Monday, July 18, 2022
at
8:00 AM (CDT)
to Friday, July 22, 2022 at 5:00 PM (CDT)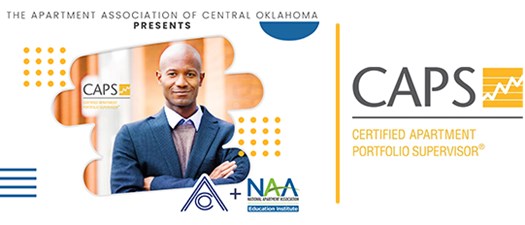 ---
2022 CAPS Dates: July 18-22
Earn your Certified Apartment Portfoli Supervisor (CAPS) designation to enchance your leadership skills, better interpret property results and track progress toward property or protfolio objectives. Whether you are a new or experienced portfolio supervisor, enhance your knowledge and on-the-job performance.
CAPS Modules:
Client Services and Stakeholder Relations
Investment Management
Improving Asset Performance
Assest Evaluation
Talent Management
Contemporary Issues in Multifamily Housing
CAPS candidates must attend class each day for a total of 5 days. Classes are from 8:00 - 5:00. Snacks and Lunch are provided each day.
Instructor: Katie Rigsby
Learn more about Katie at www.katierigsby.com
---
Cancellations with refunds will only be excepted prior to 7/14/22.
By participating in any event I agree and acknowledge that I am undertaking participation in Apartment Association of Central Oklahoma (AACO events and activities as my own free and intentional act and am fully aware that possible physical injury or illness might occur to me as a result of my participation in these events. I give this acknowledgement freely and knowingly and that I am, as result, able to participate in AACO events and I do herby assume responsibility for my own well-being. I agree to hold AACO harmless in the event that I incur any physical or mental injury, including illness, that might be attributed to my participation in the event.
If you are feeling sick or have COVID-19 symptoms, or have recently been in close contact with someone who has tested positive for COVID-19, please do not attend. Learn more about symptoms, definition of close contact and when to quarantine at www.cdc.gov.
For More Information:

6501 Broadway Extension Highway Suite 240
Oklahoma City, Oklahoma 73116
United States
405.606.2226